Amazon are big – we all understand this. Their success over the last 5 years has been widely-used to excuse the failure of numerous traditional bricks-and-mortar stores, and their earnings certainly go some way to validating this: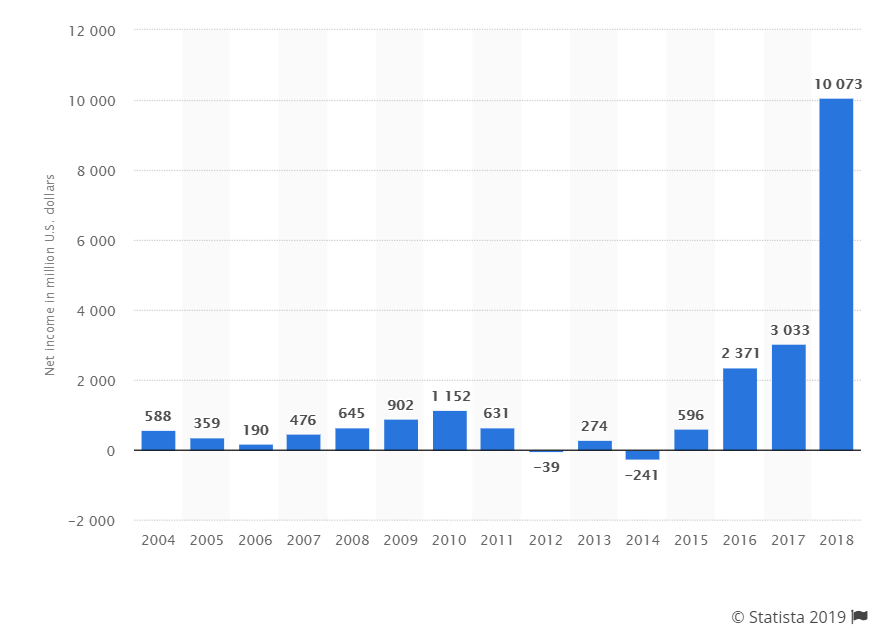 Ref: https://www.statista.com/statistics/266288/annual-et-income-of-amazoncom te/
The Amazon Assistant
However, what you might not realise is that alongside the 300 million users of Amazon's retail website/s, many users run a tool known as Amazon Assistant. This renders a banner at the top of your website, where Amazon has a comparable product.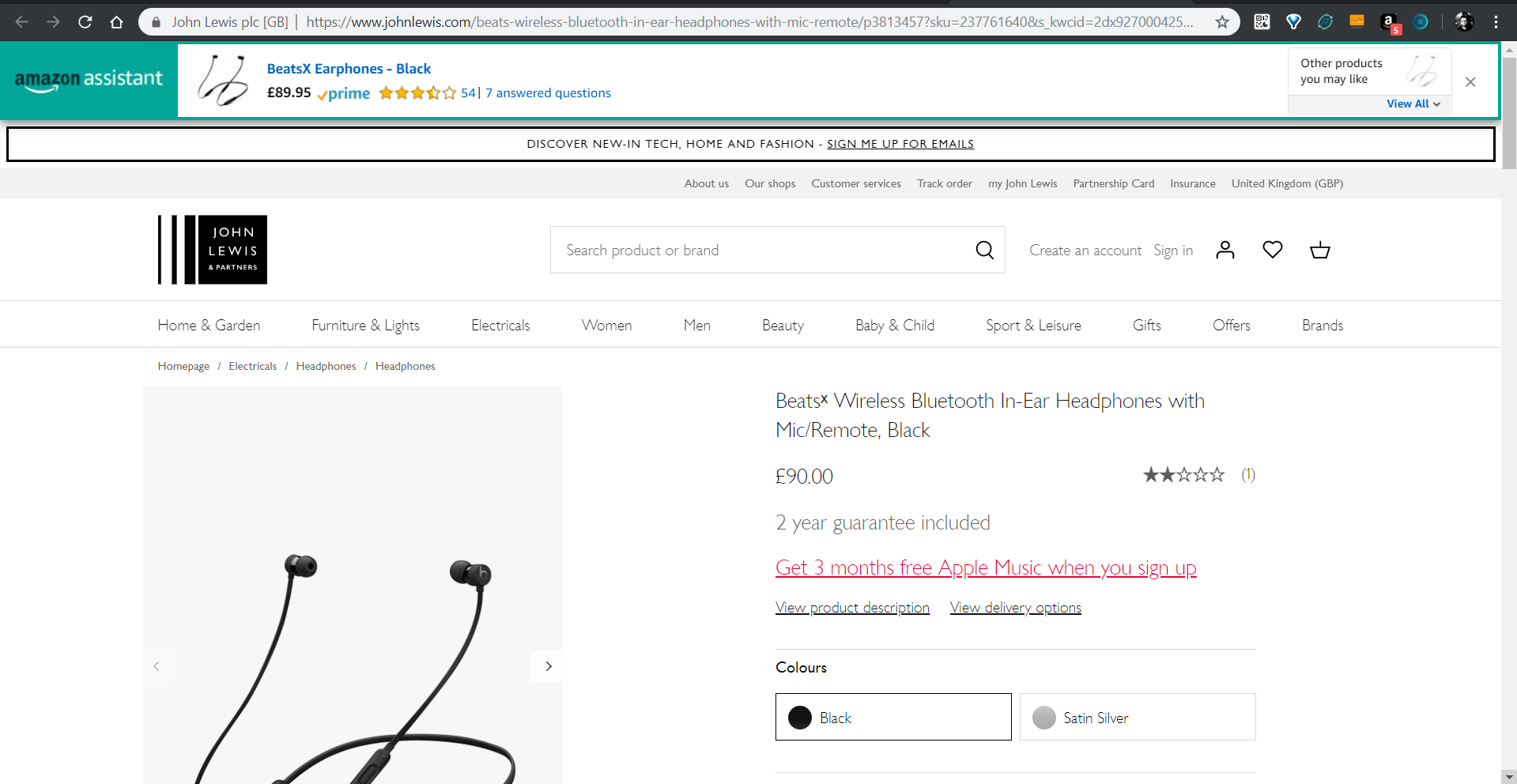 This is a screenshot taken from the John Lewis website, browsing the Beats X wireless earphones and you can see the Amazon Assistant banner has rendered across the top of the site. What you may also notice is that the headphones are a fraction cheaper and available on Amazon Prime for free next day delivery. Users are a single click from landing on this product in Amazon, and potentially just a couple of clicks away from purchasing from them instead.
Don't feel too bad if you don't yet have a strategy to combat this just yet though, bear in mind that even Google isn't recognising and handling this threat just yet (despite it interfering with their Ads and Google Shopping experiences, which are highly monetised). So you're not alone. And the good news is, we can help you get completely ahead of the curve!

How many people use Amazon Assistant?
The short answer – a lot.
Chrome Web Store shows over 7 million users, and a 4* rating from almost 3000 users.
Firefox Add-ons shows over 400,000 users, with a 3.3* rating from about 800 users.
The extension is also available for Internet Explorer, Edge, the new Edge (which will allow Chrome Extensions), Opera, Safari.. the list goes on.
The problems with Amazon Assistant
The key problems with users who have this installed are two-fold.
Firstly, the obvious. Amazon are extremely competitive on price – ruthless at times. Their buying power is undoubtedly unrivalled, and their strategy on their Amazon Basics range shows just how ruthless they can be. This is extremely hard to compete with, and it wouldn't take customers much to switch from browsing a well-known retailer like John Lewis to Amazon. Alongside price is promotion – Amazon run campaigns offering users £5 to install the extension, which we've observed to (unsurprisingly) get a lot of people installing it, browsing our partners sites, and then leaving to purchase from Amazon.

The second problem is less obvious – they may actually be (intentionally) breaking your website. Having "sticky bars" on scroll is fairly common practise in web design – the idea that if you've scrolled past something that's important, it'll stick to the top of the screen so it stays in view. Taking the same product at Currys PC World, this becomes clear. In their case, the toggles for Product information, Specification, Customer reviews etc. stick to the top of the page when you scroll past them. The Amazon Assistant bar has a higher z-index, and so overlaps easily. Infact, they've given themselves the highest possible z-index, which one would do knowing there was competing content in the same space that they wanted to be on top of (i.e. they know they're overlapping your sticky bars, and want to make sure they continue to do so reliably).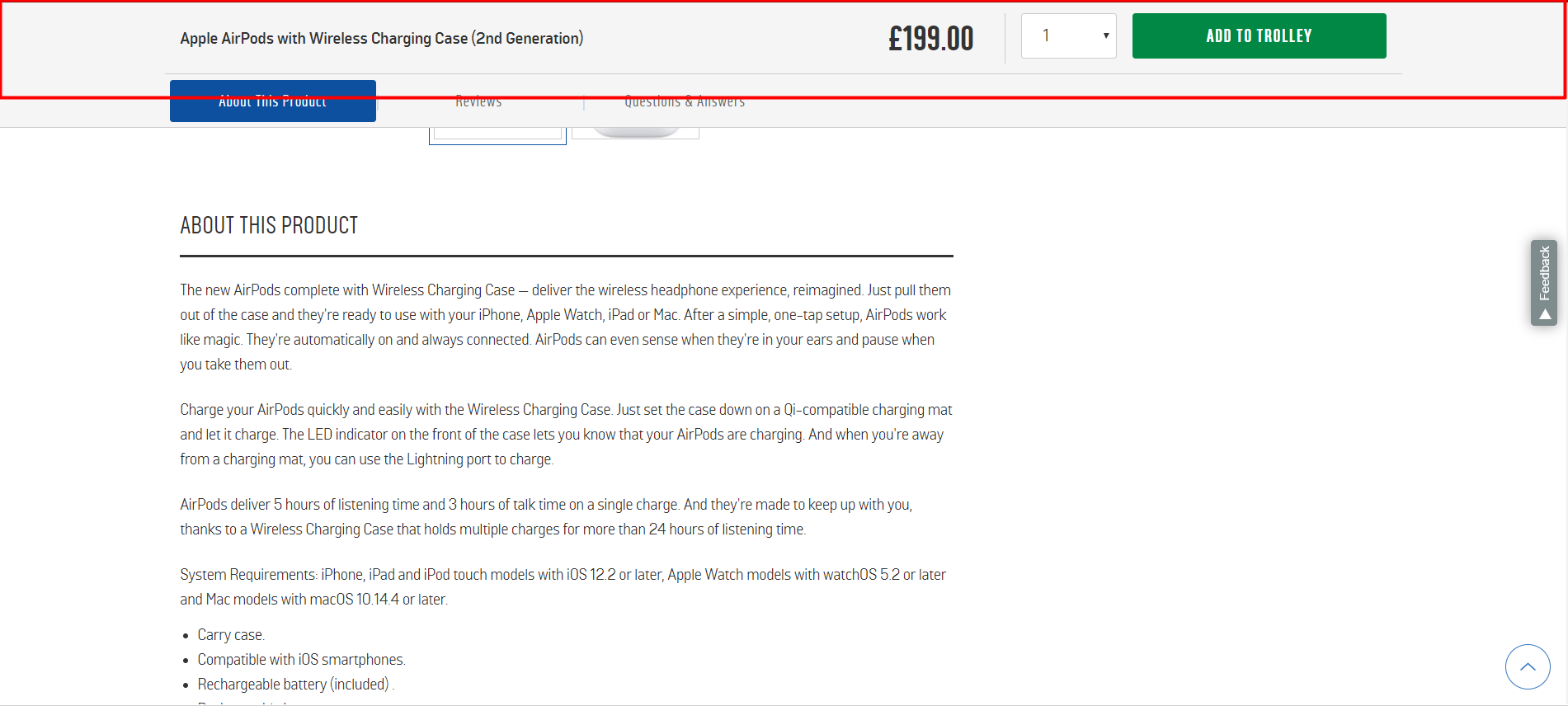 Argos suffers worse from this. They employ a sticky-bar with a price and "Add to trolley" button – a primary CTA that I'm sure they would have tested and found to improve conversion. The red area above shows what the Amazon assistant would cover, and the screenshot below shows the net result:

By covering this critical portion of their website, Amazon is undoubtedly hurting Argos' sales, most probably without Argos ever knowing.
Why have I never seen it in my Analytics or Screen Recording tools?
The way the Amazon Assistant is built is clever, as you'd expect from Amazon. They inject the bar as an iframe, and cross-domain restrictions mean that you can't read/alter what happens in there. If they can't read it, they unfortunately can't draw it for you!
As for Analytics tools, most/all of them simply won't have thought to flag the niche behaviour for you. We can though (keep reading!).
It's not all gloomy
From our research, we've found that there are times where you can use this to your advantage. There are a few things to keep in mind as you look to tackle this.
Firstly – Amazon aren't always the cheapest. If you have a good grasp of your products and competitive offering, you may well find times where it'll show a more expensive price. Times like this may well actually be of use to you, and you should leverage that information in the ways we describe below.
Secondly – you probably have a talented web developer team not far away (or if you don't, we're only a call away!). As described below, there's a lot you can do to understand it and bend it to your advantage. Don't be afraid, this could be a great opportunity to turn some browsers into customers.
If, however, you'd like to save yourself some effort, we've already done the hard work and have pre-prepared code snippets that we could get over to you in just an hour.
What can we do about it?
Loads. Here are some of the strategies we've researched and tested:
Make it go away.
This isn't always the best approach to take, as described above, but if you want it to just go away, we can absolutely make that happen.
Track it.
Data is gold. Knowing that it's happening and how often is important in understanding the effect it's having on your business.
Test it.
Bar vs. No Bar. Per product category, brand, or price tier. Knowing when to leverage it and when to hide it means you can be smarter than Amazon.
Break it.
Want to keep it there, but stop people from clicking on it? And furthermore track how many people try to close it, or follow links through and what pages, categories, brand etc. that happens on?
Want to leave it there, but make sure it doesn't break your sticky bars or other functionality? Our solutions engineers have learnt the various ways in which we can break or bend the bar, and all of the above are possible.
Replace it.
Want to replace it with a message that reminds customers why they're on your site, and shouldn't go to Amazon? Do that, or better still – test that.
To summarise
Amazon are trying to take customers from your site. There are millions of customers out there opting-in to using that competitive browsing technology. You can, however, detect it, track it, remove it, replace it or break it.
If you're looking for help on making this happen, drop me a line directly at sandeep.shah@webtrends-optimize.com or send us a message.
---
Like this? Then read Sandeep's follow up article from June 2020: 'Hacking' Amazon Assistant – Lessons Learnt