Team Webtrends Optimize
During this pandemic, we, like many other companies and families are being asked to work from home, so we thought we would provide you with an insight into how we have been managing to work as a team and how we've been staying strong.
We are fortunate that we already have a working from home policy in place, whereby as a company everyone is allowed to work from home up to twice a week. This amazing benefit helps employees manage work life balance with more ease, helping reducing the stress of commuting and also helping employees to work independently within their own home environments. This even works the other way whereby we're allowed to bring our 4 legged furry friends into the 'office', they help to create a friendly interactive environment… at times with a little bit of chaos thrown in.
This has meant the new guidelines has been easier for us to take on board and try to carry on as 'normal' as possible.
Although our new working from home routine hasn't meant too much disruption, we have learnt that we need to work as a closely as a team, sharing queries, questions, difficult family situations and general day-to-day laughter that we take for granted when working in the office together.
Hopefully this post is fun and insightful for you and gives an insight into how we're coping.
What we're doing as a company
We appreciate that working from home means not just being able to turn around at your desk to ask a colleague a question, and we also understand the level of CRO support in some SMEs is not the same as others. Therefore one initiative we're offering at the moment is a free service to any businesses affected by COVID-19 for the next few weeks to help them through this.
Also, our Director of Product Sandeep Shah decided to make himself available for a free session with anyone who needs any help with the CRO side of their businesses. He is happy as always to discuss possibilities of new ideas as well as feasibilities of existing ideas which can help to improve conversion rate.
In addition, it's time for us to try something different, and to also share our knowledge by connecting with the world via podcasts. Recently our CEO Matt Smith appeared on the Boundless Rebooted podcast hosted by Richard Foster-Fletcher to share his experience of working in this trying situation where some of our clients are facing a very tough time and on other hand some are just struggling to cope with the demand.
How we are staying connected as a team – it shouldn't be about work every second of each day
During these strange and stressful times we also need to be mindful of our mental and physical health.
One of our Optimisation Consultants Alla is a qualified Tai-chi Instructor. She normally puts together an hour length class in our office or local park once a week. Now because of home-working, she has started running her online classes via Zoom. Not only that, she is putting in more of her time to support us by adding an additional class each week.
'Meeting at the water cooler' and having a chat about our own lives is an underrated time. It's time to check in on our colleagues and talk about the news or experiences we've had in our daily lives. All of this is still possible we just need to adapt and use the technology available to do this.
Some of the team are running 'coffee-break team meetings' on video/audio calls at least once a day and we all keep discussing the challenges we are facing because of our WFH situation. How can we help each other as a team and sometimes not so serious topics… just discussing how are we adjusting with our 'new normal', our daily routines, food, kids, partners or helping our colleagues who are living on their own.
Last week we had an 'end of Friday' virtual pub quiz and catch up drinks over Microsoft Teams, which was a great success and helped to make up for missing out on our regular social events.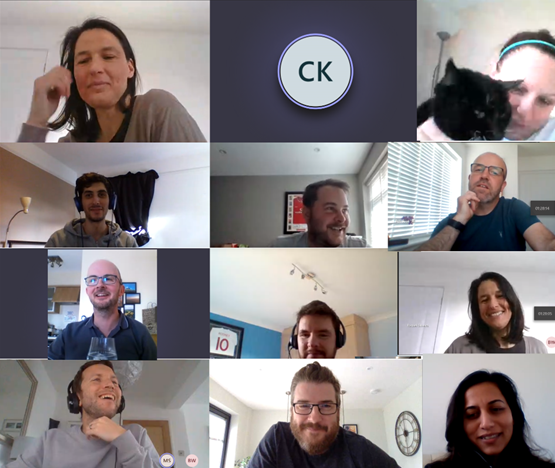 Slack is great for allowing us to chat efficiently on work project catch-ups and questions, as well as general chit-chat. We also have a few random slack channels for more lighthearted conversations…
Whether it be getting creative with setting up your at home office workspace – a standing desk is all the rage nowadays isn't it?…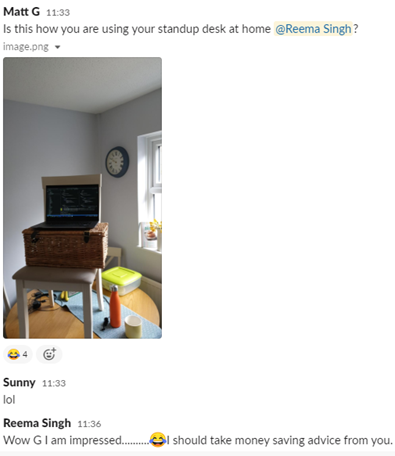 Keeping our spirits up as always one of our Optimisation Consultants Raquel has new ideas for our Easter Holidays…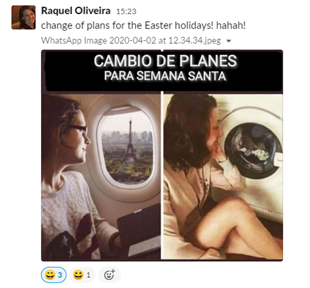 Home schooling……a new found appreciation for teachers!
Schools are closed, students are at home. Parents are Teachers. Teachers are Parents. All working parents have found a new appreciation for teachers! As a working parent now, we have additional responsibility of home schooling. It's not an easy challenge.
Webtrends Optimize have always been ready to support working parents. The management team has given flexibility with working hours and always trust us to do our job in this strange situation where we will have to manage not only our workload but our children as well.
One of my colleagues has a young family, and has made adjustments to balance between work and home life. Starting work before the kids wake up and then working for a few hours after they sleep.
Even those with more grown-up children have their challenges. As a parent we always think that we should show some trust and give them bit of flexibility, especially if they are in high school. But one day I was thinking my son was busy finishing his homework. Nope…he was busy playing online games…
Taking an interest in, and supporting, what's close to our team members hearts
Some of our Webtrends Optimize team members actively support charities and organise charity events. Because of social distancing, they are obviously not able to organise any social charity events at the moment, so one of our Developers, Daniella, organised an 'online gameathon' to support her Cats Protection charity and was able to collect £200 last week. Congrats!
Our Services Director Chris also organised a 'Guess the Jellybeans' challenge on LinkedIn to support a charity of the winners choosing. You make have seen this, and it surprisingly captured a lot of interest!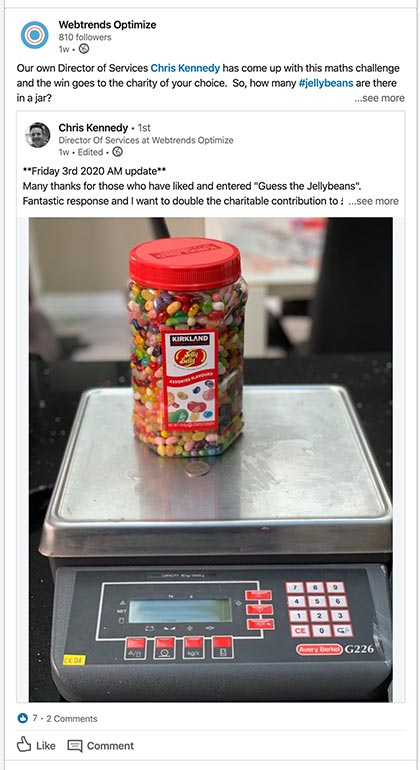 In conclusion…
I hope this post has shown some insights into how we personally are working together as a company now and also demonstrating the 'new normal' for us.
In conclusion, working from home is different for everyone. What might work for me might not work for you. But by having a routine, minimising distractions and communicating with your team and clients by multiple platforms makes it much easier and fun.
As an optimist, I'd like to think that these fundamental changes in working patterns could well be a catalyst for positive change for the future but only time will tell. It looks like, it is going to be a very tough fight, but we are all in it together!
Keep Strong!