After months of planning and excitement, we were finally able to attend the Experimentation Elite (ExElite) conference on December 8th. This was an event designed to bring together CRO and experimentation marketers looking to share their knowledge and also build on it. ExElite stands for everything we believe for us as a business, so being headline sponsors was a real privilege! The day started with the lucky ones of the group getting to the venue nice and early to set up our Webtrends Optimize stand. This was conveniently placed next to the food area, so we caught the eye of many attendees! It provided a really great networking opportunity, and we were able to have interesting conversations with a variety of new people. We also ran a competition which encouraged people to aim a nerf gun at different-sized holes, with the smaller ones being worth more points than the big ones. This was a great way to get people over to our stand and start conversations about what they are doing with their own marketing and testing. (Particularly as the winner would walk away with a pair of Bose headphones)!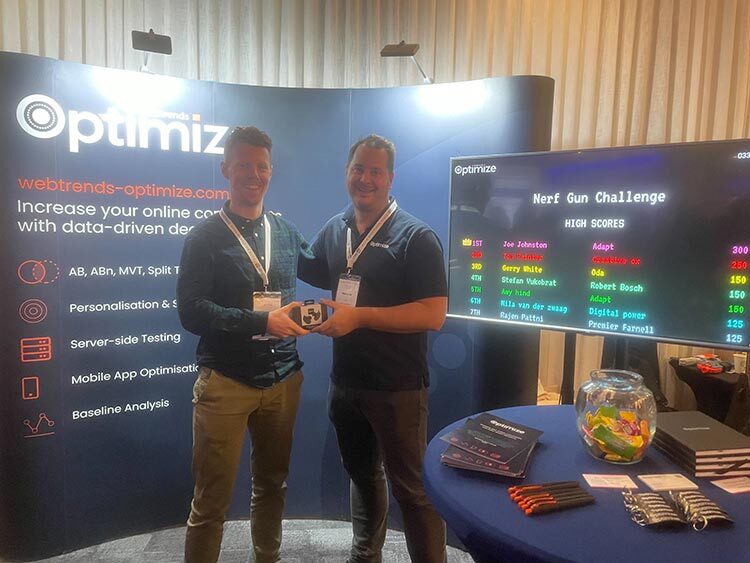 What we learnt
We loved talking to different people who came to our stand, but the highlight was the different speakers which we got to listen to throughout the event. When working in the CRO and experimentation industry, you can become too focused on your own ideas and the tests you are running. Attending an event such as this exposes you to different viewpoints and forces you to think about things in a different way. This is one of the most useful things we can do as it allows us to continually provide better results for our clients. Having conversations which force you to look at things in a different way is always going to push you to consider other alternatives.
The first talk from Stephen Pavlovich, CEO at Conversion.com, talked about how we don't learn enough from experiments that fail. He focused on how they can help us build a body of knowledge about who the customer is, what motivates them and what they want to see. In particular, we can use these insights in an actionable way to continue to learn from them. This is something which particularly resonated with us, as we are always looking for ways in which we can continue to utilise user data.
Next, we heard from Stewart Ehoff who focuses on the how and the why when it comes to testing. He suggested that duplication of effort was a wasted resource, which similar to Pavlovich's theory, looks at actionable ways to learn from testing. These two talks already identified to us that user data could be used in a more effective way, so successful and unsuccessful test data can continue to be used.
Emma Travis, who is the Director of Research at Speero, is someone whom we have worked closely with before and whose work we greatly admire. Her argument about the implementation crisis of user research is something we have seen in our work when testing client pages. She outlined how to use research methods alongside experimentation to support informed business decisions you are making. This is really key as it ensures you are utilising real insights to support testing. Emma used an interesting example of when she was working with a client who was testing different versions of an aeroplane menu that customers can pre-order from. The original version was just text and not many customers were ordering from it all. The next version had images of food, but they were an unrealistic representation of aeroplane food actually looks like, so customers did not trust what they were seeing. Finally, they used images were an accurate representation of the food on offer, so customers knew what they would be ordering and trusted they were displaying an accurate depiction. The message of this was to not write things off before they have been fully explored, something which is useful in the experimentation industry and marketing generally!
Another talk that really resonated with us was from Eden Bidani, who is a conversion copywriter. Her perspective was interesting as it outlined the power of copy. And if you don't think copy is important, that's because we don't notice the best copy! Again, with this, experimentation is key. Sometimes adding more content is better, as it gives you more scope to tell a story. So often we put emphasis on graphics or icons for conversion, without giving credit to what is being said too.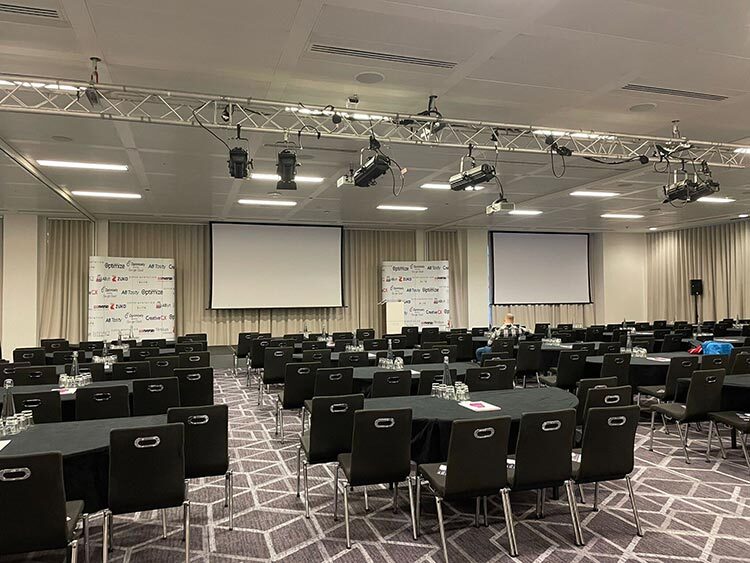 Social Proofing: Beyond the bubble
Sandeep Shah, our Product Director at Webtrends Optimize, also delivered a talk at ExElite. His was about Social Proofing and how your real-time data can help make the best decisions. He suggests that people want to know they are being understood. For example, if you have come across a paid ad for trainers and click through to the website, it is quite clear what you have come to the website to shop for. When the site is not personalised to meet this demand, customers can become uninterested or lost and click off as a result. With so many options for places to buy trainers (or other clothes, jewellery, cosmetics, etc.) looking into the data of what people come to your site for is really key.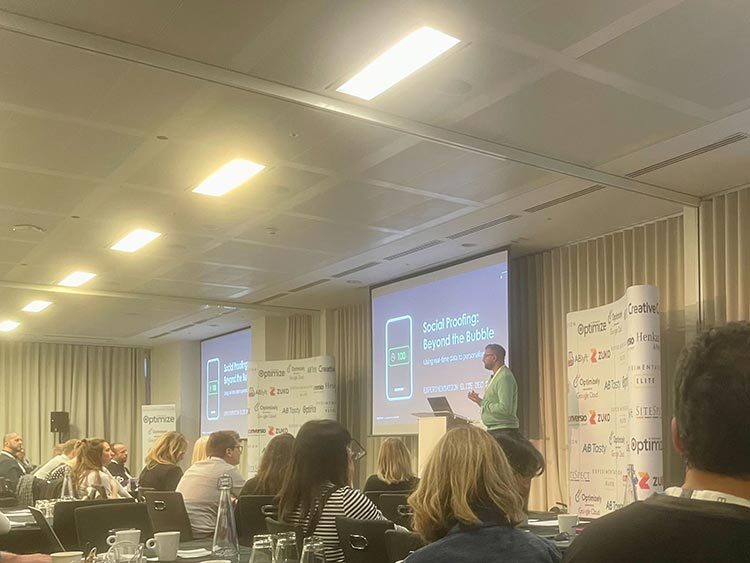 Looking to 2023
The Experimentation Elite conference was a really brilliant way to end an exciting year. One thing we really took away from Bhavik Patel is that life is about lessons, whether it be in experimentation or anything else! This really sums up our year working with our partners and clients as we are always looking for ways to learn from our successes and failures. We can't wait for many more meetups in 2023 and to continue building our network, expanding our partnerships and taking on new clients!