Identifying the best-performing segment for your business is key to ensuring a high return on investment (ROI). There is often an emphasis on attracting new traffic, but, often, your returning visitors will be one of the most important areas you can engage in that drives more value for your business.
The truth is that not all businesses will have high repeat purchases though. Most likely, e-commerce shops that sell low-value items will see a higher percentage of visitors converting on the first visit.
Through empirical observation and experience, we have noticed that the higher the value of the purchase and the more complex products or services you are selling, the more likely visitors will want to come back to the site several times before buying.
Depending on the industry, the percentage of total transactions undertaken by returning visitors often reaches 70% and even 80% of purchases. And these will be only the visitors who are tracked as returning. But the actual number may be even higher when we take into consideration visitors coming back on different devices and browsers.
Returning visitors are more likely to be more responsive to your marketing efforts, email campaigns and promotions, so their conversion rates and average order value (AOV) tend to be higher.
Therefore, establishing a relationship with your visitors is a crucial step in turning your return visitors into customers.
What is the role of conversion rate optimisation in engaging returning feedback?
Many are familiar with the customer journey map when a customer goes through awareness, consideration, and acquisition stages. The customer journey, however, is not a linear process.
Furthermore, between consideration and acquisition, there is a lot of browsing, visits to product detail pages, adding and removing to/from the basket, reading reviews, browsing through other products, and comparing prices.
And this is where conversion rate optimisation can help. Very often, when analysing the returning visitor segment, we notice that they browse more products. They are also more likely to add products to the basket, so the conversion rate is higher, along with the AOV.
The following suggestions will outline some examples of when conversion rate optimisation can help you get the most out of your communication methods to ensure returning visitors are more likely to purchase.
How to engage your returning visitors
1. Encourage visitors to log in
There are many ways of getting your visitors to log in. Some retailers such as Brand Alley or Sport Pursuit make visitors sign up before they can fully browse, enticing them with 'exclusive' discounts.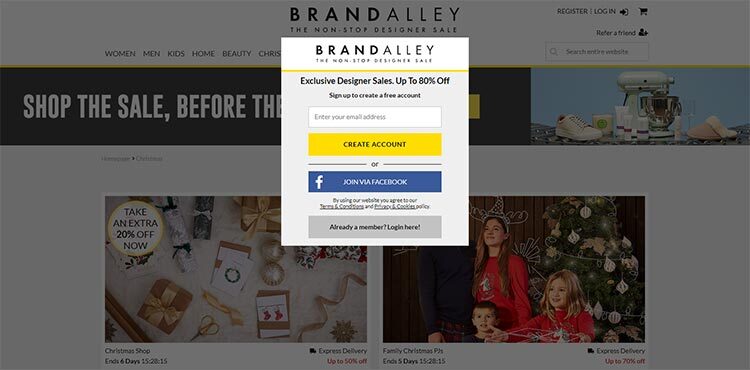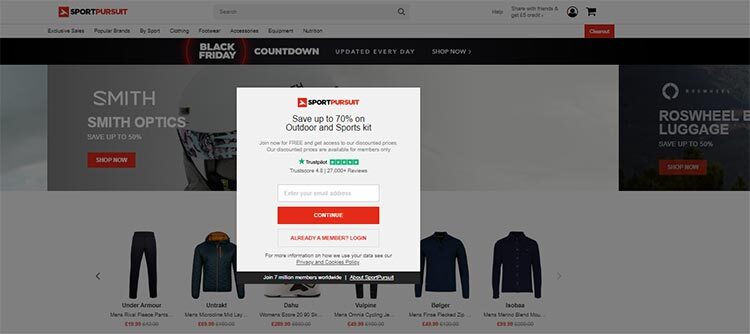 Others, such as Look Fantastic, encourage visitors to log in when creating a Wishlist.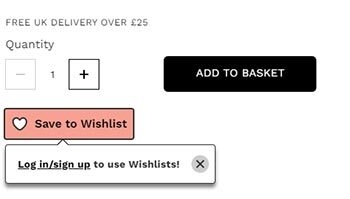 AB testing can help to identify the sweet spot between deterring the visitors from browsing and visiting more product pages by prompting customers to log in.
2. Items in the basket
In our experience, reminding visitors of the items they have in the basket is a great way to increase ROI. A simple website pop-up can remind visitors of what they were considering previously and encourage them to make the purchase.
However, we do not advocate making this a default behaviour on every site. Whilst very often nudging customers to checkout can work well, there are industries where this approach may backfire. That is one of the reasons why you should always test before fully committing to any changes.
3. Previous searches
This is an idea that can work especially well for travel websites. Storing previous searches cuts the time it takes your visitors to go back through their previous choices and optimises the time they need to shortlist their options. Ultimately, taking them closer to completing their booking.
This approach may work also well for industries where the visitors do not tend to store items in the basket, for example, entertainment, sport, and leisure. The booking is usually done for a date in the future and a lot of effort is going into finding the most suitable option.
4. Previously viewed
Expanding on the idea of previous searches, an effective way to convert returning visitors is to display the products previously browsed but not purchased.
Apart from testing whether the idea itself works for your website, you should also use AB testing to understand the position and design/display of recently viewed items. A lot of online retailers utilise this technique, for example, Amazon and ASOS, which can encourage people to complete their purchases.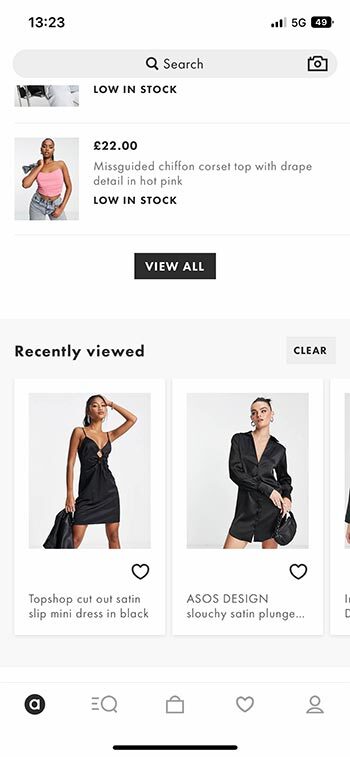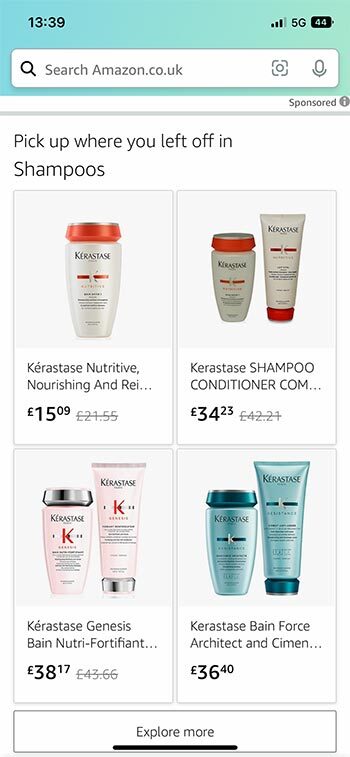 5. Product recommendations based on items in the basket
Visitors have already shared a lot of information with the business by adding items to their baskets. From this, you will already know the categories of products they are interested in, such as style, price range, occasion, etc. Using that information to source product recommendations and inspirational ideas would be the next step for personalising the on-site user experience. Websites like Amazon have been doing it for years, so there is no reason you should also not test this.
6. Live Chat
Live Chat can be a very neat message to engage a customer, as they have the option to interact with someone 'in the moment'. When analysing the return visitor segment, we can track higher-value returning customers who may be closer to making a decision. Or you could test a particularly interesting segment, such as B2B customers, to engage them in an online conversation.
7. Marketing sign ups
Acquisition costs are growing year-on-year and the competition is fierce. You probably already have a segment of visitors who come from paid traffic, added an item and then returned a couple of times, but never made it to checkout. As a website owner, you want to minimise re-marketing spend and therefore as a minimum from your KPIs, you may want to look at increasing marketing sign-ups from paid traffic. This will ensure you are getting a high ROI as you can then convert repeat visitors from your sign-ups.
Conclusion
Return visitors are the ones you are most likely to convert. Once you know how many visitors are returning to your website each month, you should consider a variety of techniques to turn these into conversions.
To keep driving people back to your site, it is important to learn a bit more about them and their behavioural patterns. The best way to do this is through testing! From here, you can identify the patterns you should be capitalising on.
From here, you can identify the patterns you should be capitalising on. It is also key to ensure your marketing efforts are not impacting your returning visitors at all. For example, only offering deals or discounts to new customers. You should be offering a mix of discounts, offers & opportunities for both new and returning customers.
To discuss how to convert return visitors in more detail, feel free to reach out to me on LinkedIn. Or get in touch with the team!