First things First
There can be some hesitation about the use of pop-ups on websites, due to mixed opinions on their success.
However, if done well, with the proper care taken to ensure they are beneficial to your user experience, they can be a really valuable engagement tool as part of your overall strategy. And they are also fairly easy to create!
The key to successful website pop-ups is where, when and what you convey through them.
Nobody wants to miss out on deals, exciting events, or freebies, so it helps make your visitor aware of any important promotions. And, if you want to communicate important information to shoppers as soon as they land on your website, pop-ups are a good option.
How to design website pop-ups
As mentioned above, carefully designed pop-ups on websites can become a good lead generator. The selection of attributes can make a real difference, so making the right decisions is important.
Here are some design tips for website popups:
Less is more. The message should be short and simple so that visitors can absorb important information at a glance. A website popup should have minimal elements and only relevant information. One attention-grabbing headline, a small description, and a CTA or link are enough. Don't confuse your visitors by bombarding them with too much information or too many links!
A good 'hook' can work wonders in influencing visitors. For example, you can generate curiosity using words like Hacks, Secret, and Unlock, or by strengthening the feel of uniqueness by using terms such as Limited Edition, New Spring Collection, Exclusive for Online Customers, etc.
Imagery or eye-catching colours work well to grab attention and are key.
A nice standout CTA can be all you need to encourage visitors to act.
Easy-to-find exit button. Visitors should not struggle to find an exit; they should not feel trapped or obliged to take an action.
Last but not least, test your hypothesis. You should always AB test different variations.
Five effective examples of website pop-ups
As I have highlighted above there are many positives to using website pop-ups – here are just five simple but effective examples of how you can use them.
1. Urgency Messages
Fear Of Missing Out (FOMO) always works well. Nobody wants to miss out on a deal, especially one that won't last forever! Many visitors need an extra push to complete the purchase and showing targeted messages on either the homepage or the product pages, could help convert a visitor into a customer.
For example, an urgent message could be…
Retail: 'Next day delivery', 'delivery before 25th of December', 'Last chance to buy, or 'sale ends this weekend'
Travel: Customers are always interested in good deals and offers e.g. 'Last chance to buy', 'End of summer deal', 'last minute deal', etc
Finance: The finance world is always difficult for marketing tools, so we can only encourage the user to complete the forms

2. Social Proofing Messages
With more and more customers online (and more and more choices), customers more than ever lean on others' opinions to reaffirm their selections. With a few simple social proofing messages, you can easily help your visitors make decisions and guide them to the desired products etc.
For example, reviews, testimonies, feedback, number of recent purchases/joins/downloads/views, and who bought recently (place/country/time) are a few simple but effective social proofing messages which help visitors to make decisions.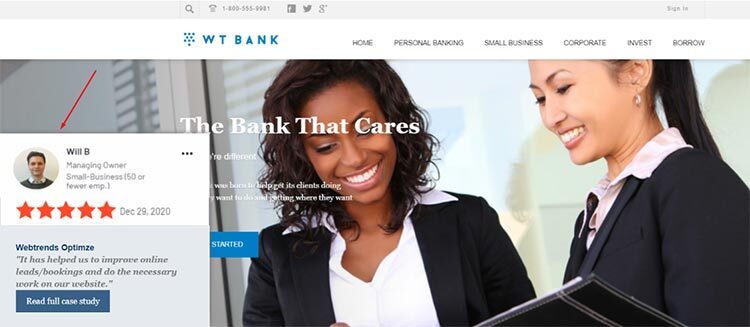 3. Highlight your current deals/offers
Users are naturally very curious when they see words like deal, offer and sale. This is an excellent way to pique the interest of shoppers and begin the lead nurturing journey. Particularly in e-commerce, as we can highlight seasonal offers, exclusive deals for members, a farewell sale of a limited-edition product and more.
Again, less is more, and you shouldn't overthink it. Instead, focus on delivering legitimate value and make your offer easy to digest.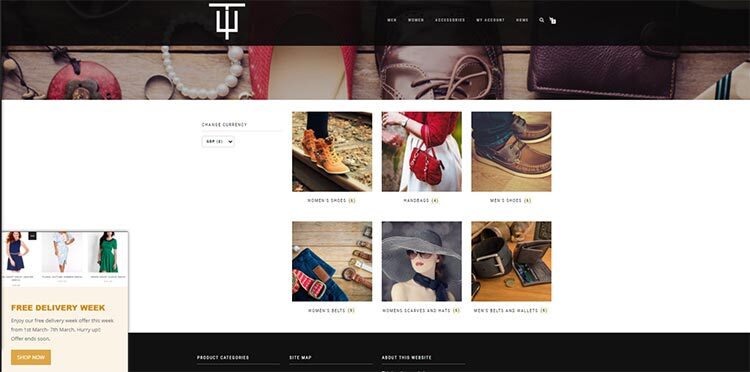 4. Promotion of upcoming events
Website pop-ups are the best tool to promote awareness at any company event. The moment that visitors land on your website, they have all the information that can successfully increase leads.
You can promote events like webinars, seminars, or live events. This can be especially useful in the entertainment industry and for B2B companies.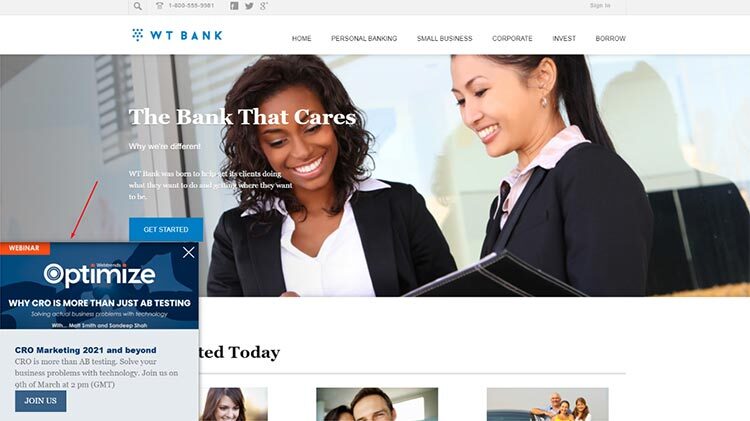 5. Lead Generation / Email sign-up tool
Your website visitors are the audience you want to entice to sign-up for your newsletter or email communications. To convince them to make the decisions you want, you need to plan your strategy very carefully. Giving users a chance to 'get in the club' might give them enough emotional reason to seal the deal and provide their email straight away.
But you can also incentivise your visitors in various ways depending on your sector and service type by creating various types of lead-generating promotional messages to improve your email opt-ins.
Conclusion
Using website pop-ups is a very effective marketing and CRO tool, whether you use it for promotional purposes, improving your email list, or trying to grow your social media presence.
Webtrends Optimize has a range of no-code widgets - a variety of pre-built website pop-up widgets which you can tailor to your own needs. You just select the style and content of your choice, and you can build, test, and launch, without any prior coding knowledge.
Alternatively, you can get your developers (or ours) to build whatever pop-up you want in our code editor. Either way, the most important thing is to always test different variations to ensure you are delivering something to your users that enhances their experience.
If you'd like to discuss more what you can do with website pop-ups feel free to reach out to me on LinkedIn - or get in touch with the team.