This is a guest blog on the power of geo-targeting from one of our Aussie partners, Kraken Data.
The more you work with website visitors and try to understand their needs, preferences and behaviours – the more you realise that they are not all the same. They use different devices, have very different demographics (male v female, young v old etc.) and come from many different countries and cultures.
When you look at your analytics do you see traffic from countries outside of your main business location? More importantly, what do those visitors do? Is their bounce rate higher and do they actually convert? If you see visitors from "other" countries, how do you ensure you are presenting the best experience for them and getting the best possible conversion rate? The solution is Geo-targeting.
What is Geo-targeting?
Geo-targeting is a digital marketing technique where ads, content and campaigns are specifically designed for visitors based on their available geolocation data. How accurate the location is depends on a number of factors including the IP address database being used as well as the IP address source, you could be looking at a VPN or proxy server address. But using this data we are able to target visitors at country, state or city level and start to see the effects of changes in the experience presented to them.
A recent example of a use for geo-targeting was for a New Zealand client where they were opening a new store in Auckland which had a "Click and Collect" function. It was a new concept and they were concerned that it could have generated a lot of enquiries for similar stores countrywide, so we were tasked with building a test that displayed a few variations – and only to Auckland visitors. Segmenting using geo-targeting gave the desired result and proved to be a relatively simple test to setup and execute.
This was an example of displaying geo-targeted content for a specific business purpose, below are some other uses that can be applied across a variety of online business segments.
Best Practices for Geo-targeting
Don't be Big Brother
Whilst it is great to highlight deals specific to a local department store, it can definitely overstep the mark to then show the distance from the visitors location to the store. Displaying special offers is helpful and provides value to the visitor, showing that extra level of detail is intrusive.
Recognise Local Culture
Utilise local events to engage with the visitor. It could be presenting goods related to upcoming weather episodes or for sporting events like Grand Finals.
Use Local Imagery
Local landmarks can resonate, particularly for some places. The Sydney Opera House would be instantly recognisable to local visitors and local sporting teams also tie the visitor in to their location.
Know your own company
If you have a very strong brand in a particular area, your messaging may differ to reflect that. The education piece may not be necessary.
Targeted Examples
These are fairly generalised practices but when you start to look at different business segments you can start to put together more targeted examples.
Energy Companies
We have used this with energy companies, pre-selecting the visitors state upon entry to the site. It removes a question for the visitor (of course still allowing them to choose a different state if needed). The less you ask of the visitor is generally better – although this should always be tested!
The location can also be very important to the services offered, the less time your visitor wastes on finding this out – the better.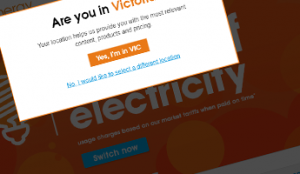 Travel
Displaying imagery of the capital city of the state or the current weather (easily achievable with various API providers) tells the visitor you know something about them and is a great start for engagement. The pre-selection of the departing city, for example, also removes one step for the visitor.
If you have a special for travel deals to Melbourne you would consider excluding them from that deal and displaying different offers instead.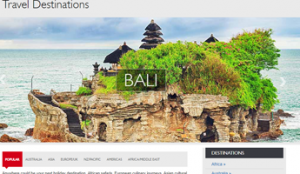 Online Betting
I know if I visit a sports site I am generally looking to bet on a sport and a team I know. In Melbourne it could be an AFL team, in Queensland it is more likely to be Rugby League. Instead of a generic page for visitors, why not test making the pre-eminent sport in each state more prominent on the page? Does it get visitors to their chosen target more quickly? Again testing will let you know the effects of these changes.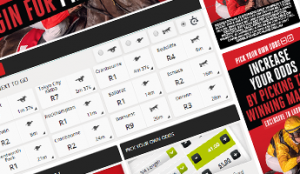 Online Shopping
Here we have similar opportunities, using known weather conditions for each location can allow for very targeted product suggestions. Raining in Melbourne? Cold in Tasmania? Blue skies in Townsville? All of these have very different content possibilities, particularly for fashion and electronic goods.
Estimated shipping times can be very powerful, engaging with the visitor in the purchasing process.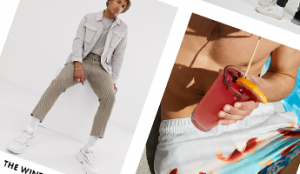 Online Shopping with Brick and Mortar Store Locations
Conversion need not always be online, you could look to highlight the location of a nearby store and the benefits of visiting and purchasing in store. It could talk to expert advice and service, in store promotions and local deals.
The presence of a local store could also improve the chances of an online sale, providing the potential customer with added reassurance.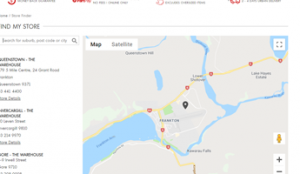 Conclusion
These are just a few of the areas that geo-targeted AB testing and personalisation can help with user engagement. The most important thing is not to assume that it will produce positive results, rather to identify which ones work and then refine and improve with a continual testing program.
Remember that the visitor location can sometimes be more important than the device used or the method in which they got to your site. A one-size-fits-all approach fails to meet the expectations of today's visitor, the use of geo-targeting is a valuable resource in your digital toolbox.